This is my promise to you that if you read this article till the end with complete attention, this is the only Beginner's Guide that you'll have to read in order to become a Master in SEO.
Before diving into the deep ocean of SEO, let me tell you – I have written this entire blog under the guidance of Zeeshan Sir who is a CEO & Lead Trainer at Top Digital Marketing Institue in Kolkata i.e KDMI (Kolkata Digital Marketing Institute). So you are getting to learn from an expert for free 🙂
To begin with, you need to ask me this question – What is a Search Engine?
The search engine is a software system that conducts web searches and provides us with the best search results according to our input keyword.
Some popular search engines are Google, Yahoo, Bing, etc.
Do you know how many websites exist in the world?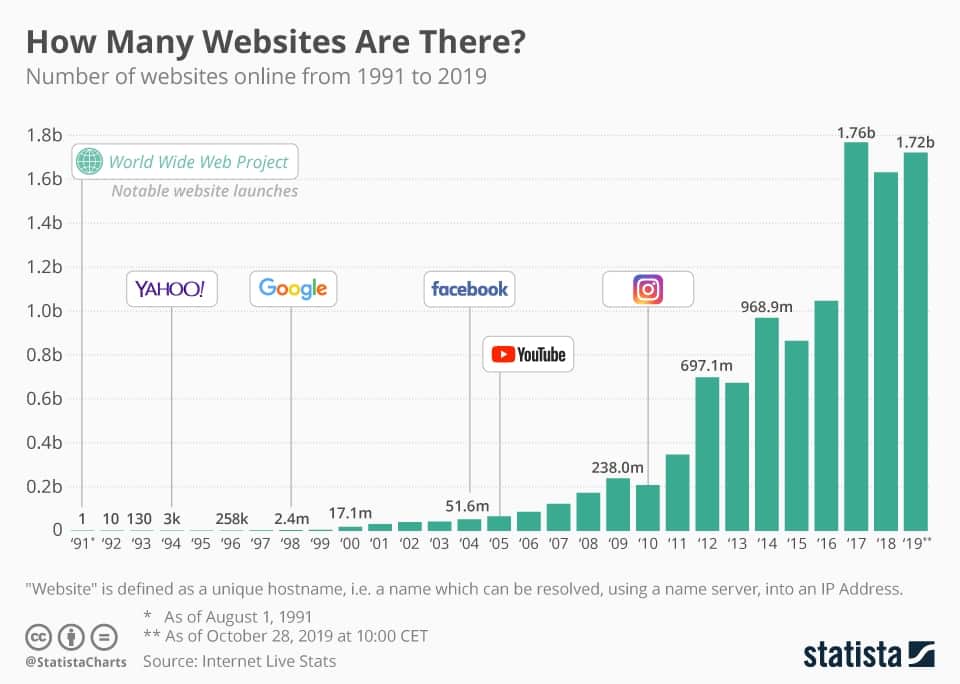 According to the latest data, there are more than 1,875,885,785 websites and the number is increasing continuously. Can you spell out that number at once?
SEO is an effective desired process to rank our website in order to get better quality and quantity of audience. It is like the oxygen of our online existence and more importantly, it is absolutely free.
What is SEO?
Search engine optimization is a process through which we can improve our website rank on SERP, to get organic or free traffic on our website. The better the ranking of our website or our page in the Search Engine Result Page, the better we will gain public attention. It will surely help to create a mark on the public perspective and the growth of that organization.
Why do websites need SEO?
To understand these things properly let me break some terms related to SEO
Quality Traffic: By targeting a particular keyword, we can attract all the visitors in the world. Google (any search engine) shows the best result according to your query. If google tells a visitor that you are a source of apple I-Pad when you are actually a farmer selling apple, that does not make any sense. That is not the quality traffic you want for your website. You want to attract visitors who are genuinely interested in the product that you offer.
Quantity of Traffic: Once your rank is higher in SERP, you can attract more traffic on your website. Let's consider that you have an ecommerce website where you're selling products! An increase in traffic will be directly proportional to the increase in revenues and profits for your business!
Organic Result: There are significant place for ads on many SERPs. However, for organic traffic you don't have to pay a single rupee. You can achieve Ranking on the 1st page of Google without spending a single dollar on Search Engine Optimisation.
So now the question is, how does the Search Engine work?
Search engine mainly works through three basic functions
Crawling: Crawling is like a discovery process in which search engine sends a team of robots (known as crawler or spider) to gather all the updated content they can find all over the internet.
Indexing: Store and organise the data properly which the crawler collected during the process of crawling. Once your website gets indexed, it will show up on Search Engine Result Pages!
Ranking: Search engine provide rank the pages based on searcher's query in order to organise the result to the most relevant to the least relevant.
I hope you got the basics of Search Engine Optimization!
Moving on to the next part of this blog i.e., Which audience to target? (Keyword)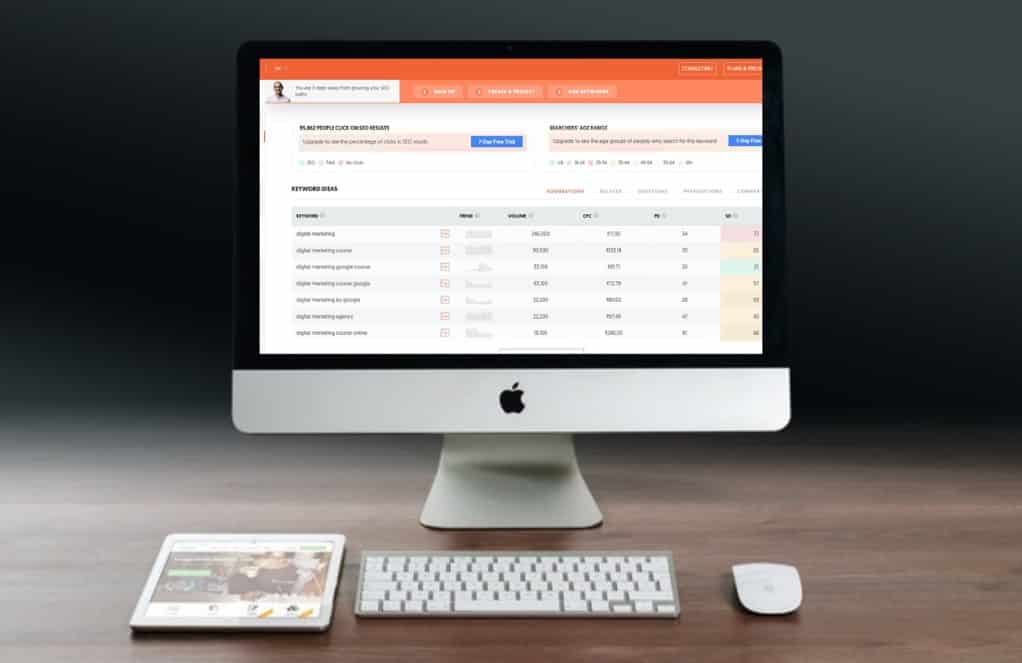 Now Understand the importance of the "Keyword"
The keyword is the most significant thing to reach out to your target audience.
For Example – Someone drops a search query on Google – "Handmade Craft Items".
Now if you are someone who is selling Handmade Craft Items, then this is 1 of the keywords on which you need to make your website rank!
The content on your website should be both user and Search Engine oriented! You need to craft your website content in such a manner that the audience likes it and the Search Engine also finds your content relevant and quality! Let's determine the strategic keyword which you should target in your website content.
When you are aware of what people are willing to search, you win the game.
Keyword research will provide you the following information
What are people searching for?
Searching volume for that query.
Related searching key.
Cost per click (CPC).
SEO difficulty.
Paid difficulty etc.
Before you begin with keyword research for your organization, you need to know about the consumer and the product/service of that organization.
Ask some questions to yourself
What kind of service or product the organization provide?
What words can my target audience use to find these product or service?
What kind of keyword variations people are using?
If you know those answers then you can become an expert in this field.
Let's suppose you're selling products for children's care!
We use tools like Ubersuggest, Google keyword planner, Aherfs, etc for keyword research!
You also find suggested keywords from YouTube, Social media platforms, search engine's search bar, Quora, etc.
Here, you need to focus and single out the keywords which have high search volume but low difficulty!
This implies 2 things –
More people will be searching for you and so more website visitors
Low difficulty means lesser websites are using the target keyword or it will be easier and faster for you to rank higher on this keyword!
Hope you have an idea about Keyword Research now.
The next step is crafting and optimizing the content on your website!
What is On-Page SEO
The practice of crafting web pages that will answer the searcher's query. This is the most important part!
This depends upon multiple factors. Let me discuss this one by one.
Content level factors
Meta Title Tag: This is the online equivalent of newspaper headlines. If search keyword and page title match then it generates a higher CTR. The length should be around 50-60 characters! It must also include the keyword, preferably at the beginning of the title!
Meta Description: This is like a summary of the content of the blog! The length should be around 150-160 characters! It must also include the keyword, preferably at the beginning of the description!
Unique and Fresh Query Based Content: Your content must add some value in user's mind and it should be unique. You must remember that your content is everything. Content is the king. When a user lands on your page the landing page must have user's query related content.
Content length: It is recommended that the content consists of at least 1000 words. This is not mandatory now but it must solve the users query. That's important.
Use LSI: It stands for Latent Sematic Indexing Keyword. You may use the similar kind of word of your targeting keyword in your content structure, Basically synonyms on right place. It is not mandatory to rank. Your title keyword along with other keywords from that particular keyword may rank on google.
Headline Tags: The content must use headline to help the bot!
H1 tags are the most important. Under that, you can use the H2 tag 2-3 times. From H3 you can use it multiple times.
Keyword Density: It is defined as the percentage of keywords used in the body of the content. 1% -2% is fair. Don't stuff your content with too many keywords.
Image Optimization: When you use any kind of image on a particular post you must use Alt tags.
Internal and External Linking of Pages: You should add related internal and external links to your content. It is recommended that your external linking page authority should be high.
Site level factors
This section mainly comes under SEO technical audit.
Mobile friendliness: Your site's mobile friendliness should be high. Your site must be responsive and provide the user a good experience!
Site & Page Speed: Your site must load completely within 5 seconds. There are lacs of websites, so people won't waste their valuable time. The bounce rate might high. You must implement Google Search Console and Google Analytics to check these factors!
To check this you can use GTmetrix.
Broken URL: Your site must not contain any kind of broken URL. This can be very irritating for your audience. Suppose you have great query-based content along with a catchy title on your website, but when the user clicks on it, it shows "The page is not found".
Website file size: When your website content is compressed, it will help to load the page faster. So you must try to reduce your file size. Recommended that it should be under 5 MB.
Robot.txt : By seeing the extension ".txt" you may think that it's a text document. Then yes! You are right. By generating this, we can control which bot is allowed as well as which are not allowed on your site.
You can also check it by entering https://www.facebook.com/robots.txt
UX : This is an important factor. UX stands for user experience. This also includes some additional terms. Let me introduce to you.
Dwell time: This is defined as how much time a user spends on your website. If audience spends more time on your page, google will think that your page has quality content and that will help to improve SEO.
Bounce Rate : This is analysed by how many users goes away from your site after landing on it.
Domain Level Factors
Domain Age: Google decides that how old your domain is and sends a signal for that. Although the difference between a year-old domain and a six-month-old domain is not much.
Keyword appears in the domain: Having a keyword in your domain name doesn't help your SEO but it will show the relevancy signal.
Domain registration length: Valuable domains are often paid for several years in advance, while illegitimate domains are rarely used for more than a year. Therefore, the date when a domain will expire in future can be used as a factor of predicting the domain legitimacy.
Domain history: A site of volatile ownership sends a signal to google to reset the history of that domain but in certain cases a penalized domain my carry penalty to the new owner.
Country TLD extension : Having a country extension in top level domain may give an edge to rank your website in a particular country.
Hope you understand how much it will contribute to your ranking on SERP. Optimizing on-site factors on a regular basis will help you to improve your traffic, ranking as well as conversion ratio.
What is Off-Page SEO
Hope you all understood the on-page factors for a website. Now, you may think that if your on-page factors are very well optimized, you will start ranking very soon! You're wrong!
To obtain a higher rank on SERP in 2022 you must work beyond your website and here the Off-Page SEO comes into the picture.
What is off page seo now?
Off-page search engine optimization refers to all the measures that can be taken outside of the actual website to impact your website ranking on the search engine result page (SERP). Very common off-page Seo practices include backlink building, encouraging the target audience to search your brand name by sharing your page or post via social media platforms.
Basically, it is the process of creating your reputation in the search engine bot's eye i.e., in the virtual world.
Before starting anything on this, let me discuss one very practical thing. Suppose you decide that you will buy an electronic gadget. How do you go about it?
If I am not wrong, then you first identify your need, then you search for the product on Google, YouTube, etc.
Apart from that product's website, you see what other people say about that product. Based on that product review or comments from your friends about that product you form an opinion of the product.
After all your brand is all about what people talk about your brand when you are not in the room!
Hope you got the point.
For the same logic, your website's off-page factors must be very strong to build your brand and it also helps to improve your ranking on SERP.
Technical SEO Aspect: Why does it matter?
Google algorithm and ranking factors are changing constantly and using artificial intelligence and machine learning to improve their search result according to query. Those algorithm updates are very tricky to get for a non-technical person.
So, the general similarity within the SEO community is that the relevance, trustworthiness, and authority that effective off-page SEO still plays a major role to boost your website rank in SERP.
Link Building and its importance for off-page SEO
According to experienced SEO experts, backlinks building is the core fundamentals of off-page SEO.
Now, we have to understand what is backlinks?
It is the process of submitting your website information or website URL to other various websites including social media sites to promote the business brands, getting awareness from the target audience, and help search engine bots to know more about your business.
It is also referred to as popularity building which is very much effective for rank improvement. Search engine algorithms use backlinks as quality content indicators. So, any site which has many high-quality backlinks will usually get a high rank.
It is always recommended that your backlinks must be high quality and should be relevant to your content otherwise google may penalize you by degrading your rank according to its penguin updates (Released on 24/04/12). Backlinks are also referred to as inbound links.
There are three main types of links
Natural links: Given without any action on the part of a page owner. For example, you are a food blogger and you use your favourite restaurant links on your blog, that is natural.
Manually built links : These links are manually created through examined link building activities. These include your audience landing on your page or you approaching the influencers of that niche to share your post.
Self-created links: These links are created by practices such as adding your link to online form, directory, comment box with anchor text. These techniques often lead you to black hat seo, that will penalize your position on SERP. So be very careful with this.
Types of backlinks
Backlinks are also categorized into two types.
Do follow backlinks : A dofollow tags instructs bots follow the link specifically. They pass the link juice and get high page rank on your website.
No follow backlinks: Nofollow tag is a HTML attribute used to inform search engine that the hyperlink should be ignored as it doesn't pass any value to rank or visibility.
Types of links that should be no-followed are mentioned under.
Paid links
User generated content
Comments
After reading that, one question may arise in your mind that how do know whether the link is Do-follow or No-follow?
Well, let me answer it. You can check page sources or use free tools to identify whether it is Do-follow or No-follow! To identify the backlink category you have to check it on the website codebase.
Structure of Do-follow backlinks
<a href="https://yourwebsitename.com/">Link Text</a>
Structure of No-follow backlinks
<a href="https://yourwebsitename.com/" rel="nofollow">Link Text</a>
Hope you understood the basic fundamentals of Off-Page SEO. Now it's time to move on to link generation techniques.
How to get effective backlinks?
Social media marketing: Social media marketing is the most effective way to get a backlink as it is already a popular platform nowadays. The crawlability is very high for those sites. So backlinks from social media is highly recommended.
Social bookmarking site : Social bookmarking is an online service which allows users to add, annotate, edit, and share bookmarks of web documents. Social bookmark allows user to access their bookmark from anywhere with any device. Example – Pinterest, here you get overview of your monthly engagement of audience, impression etc for your generated post.
Question answering site: Quora is a popular question answering site where you can create your account and answer the question related to your field and create backlinks effectively.
Local listing : You can also list your brand on local listing sites of your particular domain. For example – You have a business in Kolkata. It is recommended that you list your business on local listing sites of India as well as Kolkata. You must not create your listing on local listing site of USA.
You can google "local listing sites" to get a list.
Popular directory submission: Popular directory submission is the practice of submitting website URL on the web in a directory under a particular category. It is an effective process to generate quality backlinks.
Commenting : You can generate your backlinks by commenting to any other post or article. One thing you must remember that is it may often lead you to black hat SEO. So be careful of this.
Blogging and Document submission: You can contact your industry influencers and send them your website link or you may create an informative blog for them and approach them to publish it. That blog must contain your website link as well! This is also a very effective way to generate backlinks.
How to check your backlinks and its quality?
To check your website backlinks and the quality of those backlinks, we use tools like Aherfs, Ubersuggest, Semrush, etc.
Here, my favorite tool is Ahrefs. It's a paid tool. For the website, you check for backlinks we copy the website link address and paste it to the ahrefs tool. We get the result of all your backlinks and their type i.e., whether it is a Do-follow or it is No-follow backlinks and many other things in detail.
Here we check the DR(Domain Rating) and PR(Page Rating).
DR: It is a search engine ranking score that shows the relative backlink popularity of the target website compared to all other websites.
PR: It is a score that predicts how well a specific page will rank on SERP.
Both DR and PR were calculated on a scale of 1-100 ratings.
This is a very crucial parameter for your effective backlink generation.
On-Page and Off-Page in graphical Representation
Hope you've understood the Off-page and On-page factors in detail. Now let's move towards another important part for improving your rank in your local service area.
Here local SEO comes into the picture.
What is local SEO?
Local SEO is the practice for the online visibility of your roadside business or organization to the local search result positions on SERP. Its ranking is similar to organic SEO but here we add a geographical component.
To gather local search information, search engines rely on some signals such as social media pages, local content, links on local listing sites, etc to provide the most relevant local results to the user.
Objectives of local SEO
By doing local SEO your aim is to rank businesses higher in SERP for local searches.
Consider one example – Suppose you have a hotel business in Kolkata, which is very useful for the visitors who are in Kolkata but there is no meaning if your hotel ranks high in USA local searches.
So it is very important to improve your local SEO if you want to increase your local traffic organically.
Some local SEO statistics
So, by seeing the above statistics hope you understand how essential it is to optimize your brand position on local SEO.
Here are some tips for you to do local SEO
Optimize your google my business: Google my business will help you to create local image of your business online. So you must create your google my business(GMB) account and verify it. Encourage your customer to write their reviews.
Engage social media and add post on GMB: Google gives importance to what you share on your social media. So after creating your account you must share your google my business page on social media.
Add post on your account regularly to send signals continuously to the bot about your online presence and it will help you to improve your rank.
Mention your business name, contact and address detail properly: By registering your business online, the business details are available to your potential customers on their fingertip. For maintaining that properly you must work on your NAP (Stands for name, address and phone number).
Perform local SEO audit: SEO is a continuous running process. So, you must track your performance by performing local SEO audits.
Create local content : As I told earlier content is everything, you cannot compromise with your content level factors mentioned earlier. So, create an informative local content which can answer your audience all query.
Get incoming links with relevance and authority : Your backlinks have the power of boosting your position on SERP. So create it very seriously with the site which is relevant to your business and which have great domain and page authority.
Optimize URL with title tag, meta description and unique content: Every new blog post is a new indexed page of your site, which has a new opportunity to be found in SERP.
So, every time you write content you need to optimize it.
Ensure the mobile friendliness of your website: Mostly, we use search local content through our mobile. Chances are high that you are also reading it from your mobile now. According to statista 61% of google searches are from mobile. So, it is very important to maintain mobile responsiveness of your website.
Post and manage reviews from your customer: "A satisfied customer is the best business strategy of all," says business writer Michael LeBoeuf.
So, encourage your customer to review your products or services whatever you deliver, and also reply to them in a proper way.
Some useful local SEO tools are
ahrefs,
Moz local
Screaming frog
Brightlocal etc.
Conclusion
Hope you all understand how much important it is for your website to get organic traffic and build your organization's image online. Always remember – Without well-optimized content all your efforts may go in the wrong direction. Your website promotes your business 24*7! No other employee does that.
About This Awesome Blog Writer that is me 🙂
Hi Reader! I'm Mrinal, graduated from Burdwan University. After lockdown announced I wanted to utilize my time and learn this trending skill hence after doing extensive research on the internet I came to know about the best digital marketing course in Kolkata is provided by KDMI – Now I acquired digital marketing skills, This is my first ever content writing for such a big platform under Zeeshan Sir Guidance, I must say learning and implementing my DM skill live has given me a boost in my confidence feeling like ready for the corporate to kick start my career or become a freelancer currently doing an internship under Digital Rosogulla.
If this content is helpful please leave your comment and share it with your friends who wants to understand what is SEO and you must learn this awesome digital marketing skill it is in high demand.