If you are looking for a digital marketing course in Kolkata, this blog is all you need to read!
Why Digital Marketing?
Is digital marketing important for your business? It's as good as asking – "Is breathing important for survival?" After the recent boom in the Digital Industry, Digital Marketing has emerged as the top 5 career options for a person starting out on his career path in 2021! The number of internet users increased by 47 million (solely in India) in the last 1 year!
India, the emerging economy will be the new home to the digital revolution which has already been experienced in countries like the United States of America!
Even in India, modern companies have already tapped this industry leaving behind the old school companies which continue to live in the past.
In the US, currently, 88% of the population has access to the internet, whereas in India the percentage is just around 45! Just tells you about the growth potential in the upcoming 10 years!
From every Google suggestion to the Ads, which you see while using your electronic devices, there's a digital marketer sitting behind them!
Brands also continue to take advantage by advertising their products & services on digital platforms. In today's world, each and every company is looking for a Digital Marketing expert or Agency to boost the growth of their business! This makes the following Digital Marketing Courses so valuable.
So, do want to take up the best digital marketing course in Kolkata in order to become a Digital Marketing Expert?
Here are the top 5 Digital Marketing courses where you can learn about Digital Marketing & get certified!
1) KDMI –

Kolkata Digital Marketing Institute
Kolkata Digital Marketing Institute known as KDMI is Kolkata's best Digital Marketing Institute. It was confirmed by a news report in India's Leading Newspaper The Times of India in June 2021!
It has also been rated 4.9 out of 5 by students on Google.
Times Express also featured KDMI with the news Headline – "Highest Ranked Digital Marketing Institute in Kolkata on Google"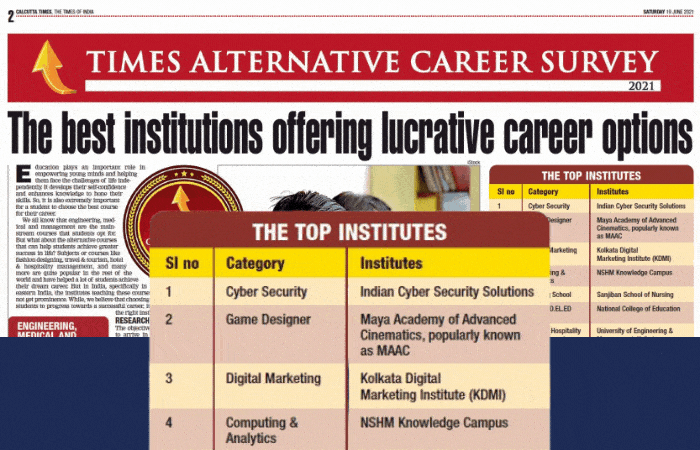 Unlike its competitors, KDMI provides Star Faculty, Personal Mentorship, Practical sessions, Corporate and Project Exposure, Free Internship, Guidance in Personal Business, and start-ups.
KDMI says "We Believe in Skills more than Certifications"
KDMI cares about the knowledge that students are gaining more than a certificate. In today's world, almost everyone holds certificates but only a few of them have ideal knowledge & real skillset.
It also says "We Care for Our Student's Personal Goals & Success"
This indicates the emotional support this institute provides to its students. KDMI believes everyone has a unique strength. KDMI keeps in touch with the students on a personal level even after the course completion. It aims to guide them so that they can achieve their personal goals.
To put it in a single line, KDMI is like a blessing for those who want to take up the best digital marketing course in Kolkata.
Course Details:
KDMI provides you an All-in-One Digital Marketing Course which includes,
Website Design and Development
Facebook Marketing
Search Engine Optimisation
Google Ads
Google Analytics
WordPress
Social Media Tools
Blogging
Website Planning
Facebook Marketing
Facebook Paid Marketing
Search Console
E-Commerce Marketing and Development
E-Commerce Portal Registration
Copywriting
YouTube Marketing
E-Commerce SEO
Analytics
CRM Integration
Instagram Marketing
Email Automation
CRM Integration
Online Reputation Management.
Influencer Marketing
LinkedIn Marketing
Faculty:
Have you watched "Kota Factory" – a famous web series from "TVF"?
If you have watched it, then you might be familiar with the Star teacher of the series – Jitu Bhaiya.
KDMI too has its own Star teacher – Zeeshan Zafar. Students call him Zishu Bhaiya. He will treat and teach you just like your own Brother so that you can achieve your dream in this field.
Course Duration:
It is a 3 – month course accompanied by another 3-month integrated optional internship where you will get the opportunity to work at Digital Rosogulla – The Leading Digital Marketing Agency in Kolkata, India!
Course Fees:
The Course fee is very affordable. On top of that, KDMI keeps coming up with innovative discounts like Free Web Hosting!
Just this 1 decision of yours of enrolling with Kolkata Digital Marketing Institute could be life-changing and career-defining!
Certification:
After completing the Digital Marketing Course, you will be guided for a total of 12 internationally recognized certificates including 8 of them from Google itself! You will also receive the certifications from Kolkata Digital Marketing Institute and an internship certificate from Digital Rosogulla if you opt for the internship!
Contact Details:
E-mail – contact@kdmi.in
Phone number – 9007746211
Website – www.kolkatadigitalmarketinginstitute.com
2)

Karmick Institute
Karmick Institute also known for its IT training, belongs to "Karmick Solutions Private Limited". It is a well-known software development firm around the Globe. The Institute believes in industry-based learning so that students get a practical understanding of everything! The institute teaches all the lessons from the grassroots level so that it can be easy for everyone to grasp basic concepts. The institute never fails to maintain its quality training. It aspires to help students build a bright future!
Course Details:
Advanced Digital Marketing Course – This could be your ideal Digital Marketing Course in Kolkata. It includes –
Search Engine Optimization
Search Engine Marketing
Social Media Marketing
Content Marketing
Email Marketing
Web Analytics & Visitors Tracking
YouTube and Video Marketing
Affiliate Marketing
Course Duration, Certification & Fees:
Karmick provides a 3-month digital marketing course in Kolkata! Their eligibility criteria is 10+2 pass. After completion of the whole course & project work, certification of training & project completion is provided by Karmick Solutions Pvt Ltd.
Contact Details:
Email – info@karmickinstitute.com
Call/Whatsapp – +91 9836423755.
3.

IIDE
Indian Institute of Digital Education is one of India's leading education platforms for Digital Marketing awarded by the Indian Education Congress and awards 2020. Instead of providing PPT's this institute provides the elements to its students in a very practical form because of the beliefs in practical world curriculums. Due to this pandemic, IIDE is now adapting the online medium for its courses. It launched its Online Digital Marketing course which will turn you into a professional digital marketer & make you job-ready.
Course Details:
IIDE offers you a very highly developed Online Digital Marketing Course for your better career in this field. This course includes –
E-Commerce Marketing
Blog Monetization
Search Engine Optimization (SEO)
Search Engine Marketing (SEM) with Google Ads
Content Marketing
Advance Course Strategies
Designing
Social Media Marketing
Influencer Marketing
Brand Reputation Management
Web Analytics
Media Planning
Email Marketing
App Store Optimization
Copywriting
Website Planning & Development
Ads Psychology
Apart from that IIDE is also offering other additional Digital Marketing courses that you can check out from its website.
Faculty:
The professionals who assure to make you a professional –
Arpit Jain, Rushabh Sheth, Prachi Shah & Aayushi Bhotica
Course Duration, Certification & Fees:
The duration of this course in Kolkata is 3-4 months which comes down to approx 12 hours in a week. IIDE offers you 12 certificates after the course completion. You have to watch all videos and submit 7 assignments & 1 final project work.
Contact Details:
Phone – +91 7304442840
E-mail – connect@iide.co
Website – iide.co
4)

NIHT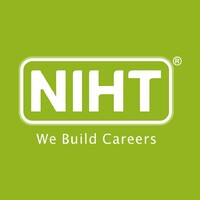 NIHT uses a tagline – "We Build Careers", this line defines the concern of the institution for the bright future of its students. NIHT Digital Marketing Institute of India and was established in the year of 2005. This Institute is a division of "NIHT infosolution Private Limited", a hardware & network training company. NIHT has a partnership with Google. NIHT says "We transform freshers into Globally Recognized Digital Marketer" & through their training, they are also doing the same. They always teach their students in a very innovative & practical manner, so that they can work in the real field without any limitations. If you are looking for a digital marketing course in Kolkata, you can blindly trust this institute!
Course Details:
Digital Marketing Certificate Course includes:
Digital Marketing Overview & Strategy
Website Planning & Creation
Social Media Marketing
Google Ads & Analytics
Search Engine Optimization
Content & Email Marketing
Faculty:
"Angshuman Sett" who is an extraordinary Digital Marketer will help you to complete this course.
Course Duration, Certification & Fees:
After 6 months of hardcore training, you will be certified with 14+ valuable Digital Marketing Certificates
Contact Details:
E-mail – info@nihtdigitalmarketing.com
Website – www.nihtdigitalmarketing.com
5)
CMI
Calcutta Media Institute is also known as CMI is a unique institute that prepares industry-ready professionals for the media, communication, and entertainment sector. CMI is a subsidiary of ABP Pvt. Ltd, the largest media group in Eastern India. CMI has been delivering its best to the students since 2010! CMI has also collaborated with "Mr. Barry O'Brien" to deliver exclusive Confidence Junior Courses to 12-15 years old children and Confidence Senior Courses for 16-18 years old students. CMI offers short-term courses in media, communication, and entertainment domains. CMI focus on making its students future-ready! It has also established itself in Digital Marketing. So if you are searching for a unique Digital Marketing course in Kolkata, CMI could be the answer to your query.
Course Details:
"Certificate Course on Digital Marketing" Includes,
Introduction to Digital Marketing
Effective Inbound Marketing using Search Engine Optimisation (SEO)
Search Engine Marketing (SEM) as Paid Inbound Marketing Technique
Paid Outbound Marketing – Online Display Campaign
Online Display and Video Campaigns using Adwords and YouTube
Leveraging Social Media for Market Development and Branding
Remarketing/ Retargeting – Communicating to the "Intent to Purchase" Audience
E-Mail Marketing
Mobile Marketing
Digital Media Analytics
Campaign Analytics
Along with this course, CMI has more just for you.
Faculty:
CMI has a very good collection of star teachers and mentors.
Some of them are – Saibal Chatterjee, Marshaneil Soumi D' Rozari, Dr. Tanmay Chattopadhyay along with others.
Their valuable mentorship and experience will ensure that you walk out of CMI a lot better and improved!
Course Duration, Certification & Fees:
CMI offers both online and offline classes!
Offline classes comprise of 3 classes every week, each class of 2 hours.
After the course completion, you will be getting certificated from CMI which will stay valuable throughout your life!
For more information regarding fees and others, contact CMI.
IMPORTANT FACTORS THAT YOU SHOULD CONSIDER BEFORE FINALISING A DIGITAL MARKETING COURSE IN KOLKATA!
Digital Presence
An institute that teaches digital marketing should be marketing itself well on Digital Marketing Platforms like Google, Facebook, and Instagram. So, you should spend some time checking their Google Rankings, FB, and Insta page likes and engagement! Here, KDMI easily wins the race as they are currently ranking 1st. They have also been confirmed as the best digital marketing institute by the Times of India!
Location
The location of the institute should also be an important factor. You don't want to spend much time on transportation. There must definitely be a good institute in your own locality. Check those out first. However, if you are still not satisfied with them, then only think of institutes in other locations. Institutes like KDMI are so well established. People have even traveled from other states to Kolkata just to join KDMI. Such is the power and influence of Zishu Bhaiya. He indeed has changed the lives and shaped the careers of the students!
Course Fees
You also need to check whether the course fees fall within your budget! Not everybody can afford courses worth 75,000 or 1 lac! So you need to see which course suits you and your financial conditions! There's no such thing as if an institute is charging more, then its course will also be better! You need to do your own homework before joining any institute.
Course Modules
This is a very important factor. You must check whether all the modules of Digital Marketing are being covered or not. If you're taking up a course worth 20,000 it should be worth it. If you still don't get to learn 1 topic, then it will be disadvantageous for you. You'd rather spend 5000 more on that topic! When you learn something, you should try and learn it in its entirety and not just in parts. So go through the course modules of each institute personally!
Ranking and Reviews
Genuine Ranking and Reviews or word of mouth could be the best way to analyze any institute! Check out the Google reviews and ratings. For instance – KDMI also publishes the video testimonials of its students as evidence of how good they actually are!
So, these could be major deciding factors for you while taking a call!
TO SUM IT UP
The mega million-dollar Digital Marketing Industry is a promising one with unlimited potential to be unleashed even by a common man like you!
You too can be a Digital Marketing Expert and make millions for yourself if you tap the resources properly. If you're a business owner, you might feel that it might eat up a lot of your time by the time you learn and implement these courses. Nothing to worry about. We've got you covered! Our sister company – Digital Rosogulla – The Leading Digital Marketing Company in Kolkata, India! They are currently working on uplifting small businesses and taking them digitally!
It's well known that Digital Marketing courses and Jobs are now on the rise. There's a reason why everyone is wanting to explore this field.
In 2016 Digital Media contributed to just 12% of overall advertising expense across other mediums like TV, Print Radio, Cinema etc.The same percentage is around 30 today! It's the Digital Era and we all are witnessing how rapidly things are changing!
"You can either make the move or miss the opportunity!"

KDMI