Digital Marketing is a necessity of the day and those who understand it, are acquiring Digital Marketing knowledge from offline or online sources, but most people are confused about digital marketing certifications.
Hello Everyone, Welcome to KDMI's another Digital Marketing blog. Under this blog, I am going to tell you everything about digital marketing certifications and help you to get all Major Digital Marketing certification which is important to showcase as a digital marketer.
Is Digital Marketing Certification Mandatory to get the jobs?
No, but sadly in Indian society, certification is considered one of the most valuable assets because our education system is based on certifications. But things are changing in today's world and now companies are checking skills more than certifications and they are hiring candidates based on skills competency not on the number of certifications candidates are possessing.
Is Digital Marketing Institute certifications are valuable?
So far Digital Marketing course hasn't become mainstream subject like engineering and MBA so university affiliation is not there,
Any registered company can create a digital marketing course and can provide a course completion certificate. Some names it Basic, some names it Diploma & Master in Digital Marketing, some say Advance Digital Marketing Certification. The fact is the valuation of the certification goes with brand equity.
Why Google Certification is important?
Under Digital Marketing training, majorly we study Google products like Google Search, Google Ads, Google Analytics, Google My Business and much more. So Google has created its own learning platform & Online option to test your skill and get the certifications as a reward!
Major Google Digital Marketing Certification Platform
• Google Digital Unlock
• Google Skill Shop
Google Digital Garage
It is one of the best places to acquire digital marketing knowledge especially about Google products like Google Search, Google My Business.
To start with Google Digital Garage click on this link– https://learndigital.withgoogle.com/digitalgarage
You have to sign up with your Email Id and you should make sure that you should put the right name there as it will automatically publish the certification on the same name.
Once you complete the registration part, you will be navigated to the Digital Garage main page where you will find many courses. You have to go for the first one "Fundamentals of Digital Marketing Course" which includes certification.
Fundamentals of Digital Marketing Course has 26 Module (Badges) having 40 Hours of Training videos divided into 106 video lessons for you.
Every badge has assessments Once you have completed all the 26 badges Google will take certification exam which is having only 3 attempts, so recall all of your learnings and go for it and believe me if you have been through all of the lessons you can easily clear in the first attempt as I did.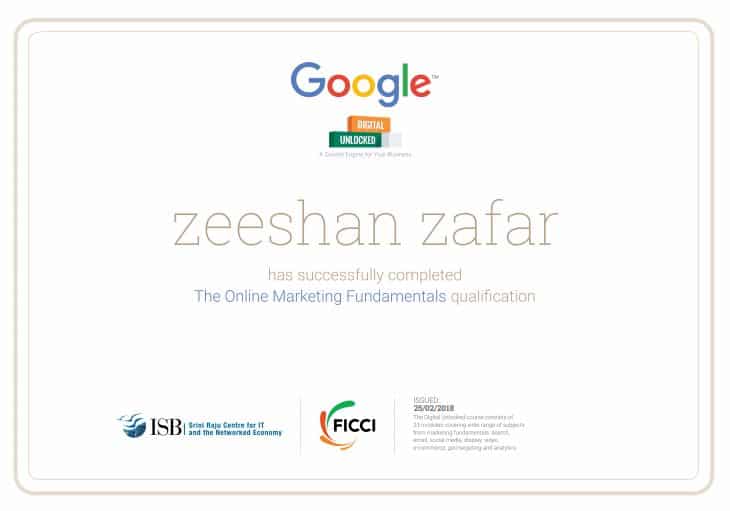 There are other certifications are available at Digital garage if you want to take that you can go ahead and take that.
Google Skill Shop
Sign up with your Gmail ID and enter into- https://skillshop.exceedlms.com/
It will ask you to accept the T&C, please do that. Then you are ready to select the course and appear for the online certification test.
There are so many certifications are available here to showcase your skills. My Certificate recommendations are, however:
• Google My Business
• Analytics Academy
• YouTube Channel Growth
• Google Ads
Google Ads Certifications
Google Ads Search
Google Ads Display
Google Ads Video
Google My Business Assessment
Signup Link– https://skillshop.exceedlms.com/student/path/3382-google-my-business-basics
Google My Business has a 6-minute assessment with 12 Question there is no time limit to pass this assessment, whereas to pass this assessment you have to score a minimum of 80%
Analytics Academy
Sign-up Link- https://skillshop.exceedlms.com/student/path/2938/activity/4625
The Google Analytics Individual Qualification exam consists of 70 questions and takes 60 minutes to complete in order to get the certification you have to score a minimum of 80%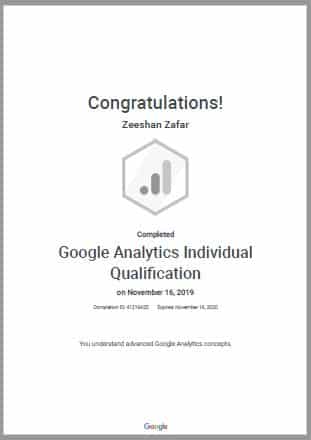 YouTube Channel Growth
This assessment will have 50 questions which you need to complete under 120 minute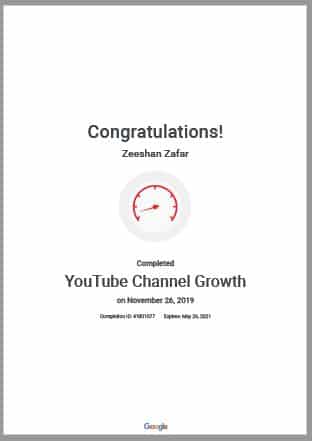 Google Ads
The Google Ads Search assessment consists of 50 questions and you have 75 minutes to complete
Websites which will help you to crack the these Certifications
https://www.gcertificationcourse.com/
My Recommendation
Acquire Digital Marketing skills by any good institute like KDMI then appear to grab these certifications so it will add value to your career.
Comment below if you have any further query or doubt regarding digital marketing certifications