Have you stopped earning just because of the lockdown? Are you also facing problems to save money for daily expenses in these difficult times? Are you finding ways to utilize your time during this quarantine period? Then let me tell you that you are at the perfect place on the internet as we are going to help you through these difficult times. Now, you can also start earning. Now, you can also make it big in life. I am going to tell you as to how you can earn or grow your business even when all the physical stores are closed.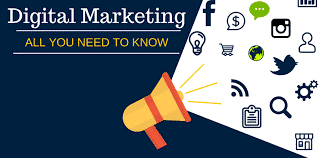 For All The Business Owners, Even 40-50-Year-Old Businessmen Whose Businesses Have Shut Down Due To The Lockdown.
Through digital marketing, you will get to know how you can have your business listed on Google. Yes, you read it correctly. People will now be able to see your company's name on Google. You will be having a website of your own. To say the least you will be able to connect with buyers and suppliers online. You will also be able to run cheap ads on Facebook and other platforms. It will be so easy for you to expand your business online. So don't waste this important period. Rather use this time period to get new buyers for your products or services. Now is the perfect time for you to create brand awareness. This is so because the usage of Facebook and other social media platforms has risen rapidly in this quarantine period. Only businesses running now are online businesses. So be smart and don't waste your time.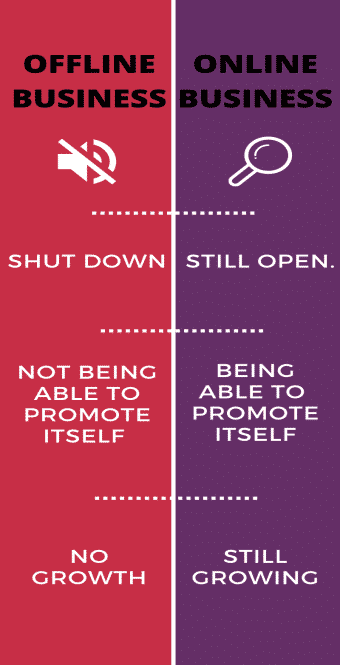 For All The Young School/ College Students Wondering How To Spend Your Time
 I have one piece of advice for all the young people out there. Instead of just Netflix and chill, Netflix, and learn. Now use this free time to bring out the hidden talent within yourselves. NOT ONLY LEARN, BUT ALSO EARN. If you are somebody who likes writing, you can now do the same thing and start earning for what you write. You can become a content creator for all those companies who need them. You can start developing websites, start writing blogs and making advertisements, posters, etc. You can be a pro in no time. Life is a race. You can be a Usain Bolt in this race by just taking these steps whereby you can overtake all the other runners. If you're being able to understand even 50% of what I'm trying to convince, I'll be successful with my goal. In this era of digitalization, take some correct steps. The 43,574 crores deal between Facebook and Reliance Jio should be telling you the importance of digitalization and marketing. Digital awareness is the way ahead. Digital marketing is the way ahead. By the time your schools and colleges reopen, YOU WILL BE REAPING YOUR REWARDS WHILE THE REST WOULD STILL BE SOWING THE SEEDS. The businessmen not having digital knowledge are sitting back, looking at others create their digital presence, promote their brand, and create brand awareness.
IMPORTANCE OF DIGITAL MARKETING
What needs to be understood here is the importance and relevance of digital marketing in today's fast-paced world. Talk about any big company. Have you ever spared a thought as to who made those attractive websites for these companies? Who made those advertisements and posters which you are seeing every day on your Instagram and Facebook accounts? Who made the shopping websites of Amazon and Flipkart? By now you should have realized the number of digital marketers working in each and every company. By now you should be able to estimate the size of the digital marketing industry. Even the smallest of the roadside stalls/shops could gain a lot if they were digitally aware. Have you ever realized that all the content on the internet has been written by people like you and me? The only difference between you and me is that I'm digitally aware because I took up this Digital Marketing Course at a very young age. It should be a no brainer for you to start with this course already.
I can tell you one thing. You are one step ahead as you have at least read this blog and now you will hopefully take a correct step. Now it's time to be up and working. Today is the day when everything changes. Today is the day when you start taking positive steps. Today is the starting point of the race. In order to survive you need to keep running and competing.
To solve all your problems KDMI has come up with an ONLINE DIGITAL MARKETING COURSE You can now be a digital marketer in no time. You can be a social influencer in no time. It's just about your perspective and understanding of things. There is literally no end to learning and earning. I shall be successful in my motive even if one of you takes up this course which has so much to offer.
STAY HOME. STAY SAFE.
About The Author
I am Yash Patodia, Student of St. Xavier's College Kolkata. I have learned Digital Marketing From KDMI Coz I love blogging because that's something which brings out my best. At the same time, I am doing an intern at Releasemyad.
I am doing what I love, Do you?