Nowadays the digital world is used for most content consumption. And so if your business is to survive in this ever-changing world, its presence in the digital world is essential. You need a digital marketing strategy before you can establish your online presence and build a strong online presence for your brand.
Through this post, we have tried to make creating a digital marketing strategy for your brand easier for you.
What is Digital Marketing Strategy?
A Digital marketing strategy is a detailed action plan developed step by step. Following this you can reach your target audience very easily in this digital world.
Digital marketing is done through digital channels. Using a digital marketing strategy, you can learn about the most suitable digital channels, choose the appropriate channels your business needs, and then use them to reach your goals.
Examples of Digital Marketing
There are multiple digital channels to use for digital marketing.  Before discussing how to create a digital marketing strategy, you must learn about what are the different types of digital channels available. Here are some examples of digital marketing channels to consider for your digital marketing strategy.
Social Media: – There was a time when social media was used only as a social medium. Now, social media has become an essential part of building brand awareness for any company. Facebook, Instagram, and Twitter are the most used social media platforms across the world. All these social media platforms allow you to create a profile for your brand, through which you can attract, retain and even find new customers and increase your revenue.
SEO: – Search engine optimization (SEO) can be a bit confusing topic, but it is a very important part of any digital marketing strategy. By choosing the appropriate kinds of keywords that relate to your business and the goods or services you provide, you can use this to rank higher than your competition and appear on the first page of SERP.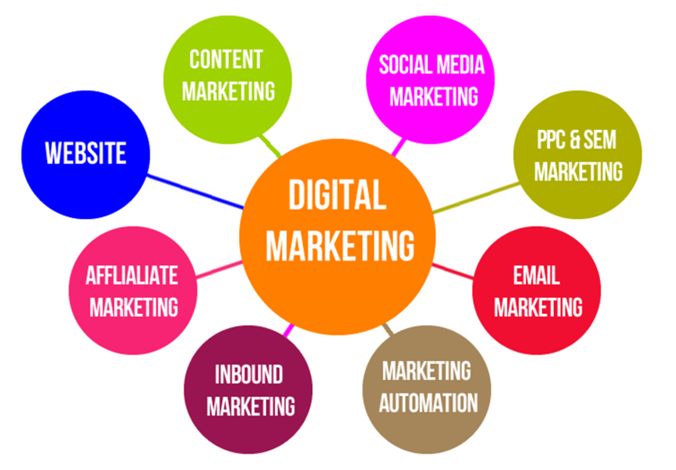 Pay-Per-Click (PPC): – By generating paid traffic through pay-per-clicks you can bring qualified traffic to your website. You can show your ads to people by targeting a specific segment based on their choice, preferences, and interest. You can generate qualified traffic at a much lower cost using this type of strategy as you only have to pay if someone clicks on it. By using an effective PPC strategy you can generate more business simply by increasing traffic.
Content Marketing: – By creating and sharing relevant writing, podcasts, videos, and other media, Content marketing is a marketing tactic used to attract, engage, and retain an audience. It is mainly a kind of communication where you communicate with your target audience using information. A blog helps you to showcase your work content and helps customers to find your website, which will help you to increase your business prospects.
Graphic Design: – Graphic design can play an important role for your company in the cutting-edge modern marketing environment. This helps to optimize a lasting impression of the brand on customers and conversions, thereby increasing communication and sales potential.
Brand's Website: – Brand's website should be the user-friendly leading spot to incoming traffic. The website should be designed so visitors can easily find information about your brand and the product or services you offer on your website.
Google Ads: – Google Ads is one of the most important platforms for your business. This is a platform where you can target your ads to a specific segment of customers according to your business preferences, and even you can filter the audience if you want. Different kinds of ad formats are available on this platform through which you can customize the ads to target your business.
How to Create Your Digital Marketing Strategy?
Here we have mentioned some simple steps to build a solid digital marketing strategy for your business.
Define Your Goals: – Before creating your strategy the most important thing you should do is to define your business goals. It will help you to determine which digital marketing services you need, which channels would be best for your brand, and what kind of results you want to achieve, and this will make your strategy much easier to work.
Define Your Brand Story: – The next thing to do is to decide how you want to present your brand in front of your target audience because this will help you to become unique and stand out from your competitors and be one of a kind to your audience. Your brand awareness should be promoted in such a way that customers choose your brand over your competitors.
For example, the global leader in sports apparel and footwear, Nike, is famous for its fascinating brand story. Nike's brand story is one of inspiration and innovation. The brand's narrative focuses on the idea that everyone is an athlete, regardless of their skill level or background. Nike consistently reinforces its brand story through various channels, be it commercials, social media campaigns, or collaborations with athletes and sports organizations. This consistent messaging helps build a powerful and recognizable brand identity.
Identify Your Target Audience: – After that, one of the most important tasks in your business strategy is to identify your target audience. You can't miss this step. Your business needs to have the proper knowledge about your target audience to make it easier for you to promote your brand.
You must include these items in your audience identification:
Demography
Age group
Gender
Education
Family status
Occupation
Interests
Customer segmentation should be started only after going through all survey reports and data thoroughly.
For example, Amul, a famous dairy brand in India, has successfully identified its target audience. Their primary target audience is the Indian middle class, particularly from urban and semi-urban households. They realized that the audience from this segment wants dairy products at an affordable price. That's why, Amul's marketing campaigns are mainly focused on highlighting their commitment towards quality and affordability. This approach helps Amul to become one of the most popular dairy brands in India.
Research on Digital Sales Funnel: – A digital sales funnel is a funnel that you can use to measure your buyer's journey from a stranger to becoming your long-term customer. You must efficiently use each stage of the funnel with the help of relevant digital marketing tools to fulfill your brand's digital marketing goals and establish a strong online presence for your company.
Define a Content Strategy: – Content marketing is one of the main marketing strategies for your business. This will help you communicate with your customers, make them more aware of your brand's products and services detailed, and generate interest among them. 
You must regularly provide interesting and quality content on your digital marketing channels. If necessary, you can create a content calendar that mentions the topic and content format properly according to dates and months, thereby ensuring that there is no chance of making any mistakes in delivering your content.
Work on Conversion Optimization: – Conversion optimization is a process you can follow to optimize your website and make it work for your visitors. Contributing website content, design, lead page optimization, email forms, shopping carts, checkout procedures, etc. is the first step. This might be a useful first step in the process of reviewing your overall plan.
Digital Strategy and Tactics: – Based on the objectives your brand has, you can create your business strategies using tools like social media, web optimization, email marketing, SEO, Paid media advertising, etc. Using all these tools can help you to advance by offering business strategy by offering webinars, creating infographics, e-book downloads, and various other offers.
Gaining access to consumer information is getting easier because of the growing number of online platforms, and soon you'll be able to automate hundreds of marketing campaigns with a single click. Based on consumer personalities, you must be able to convert customers through their encounters with your brand.

Like, Apple is a company that has a strong digital marketing strategy and tactics. Their digital success can be attributed mainly to their strong branding and marketing campaign. Apple's digital marketing tactics, such as using engaging advertising and social media posts, have played a significant role in its success. They stand out in the highly competitive marketplace because of their capacity of adapting to evolving digital trends and continually provide goods that are appealing to customers.
Analyse Results and KPIs: – One of the most important tasks in digital marketing strategy is to analyze the results. Analytics plays an important pillar in successfully optimizing digital marketing performance and cost.
KPIs measure each action to determine whether your expected Roi has been achieved or not. Using this you can measure the performance of the strategies and activities you have implemented and can achieve your goal.
Since the digital world is developing quickly, you must constantly be watchful and educated in this field of expertise. Since you cannot make any decisions without data, data is incredibly vital.
Conclusion
The two terms you must live by to develop that foundation are target and accurate. You need to build a solid foundation to operate a successful digital marketing campaign. To achieve the desired result, you need to create a better, more detailed outline.
You can go further once you've equipped this guide. You can receive a good return on your investment and move closer to your goals by taking all of these measures.
FAQs
What is digital marketing strategy?
A thorough plan of action developed to market a brand, good, or service utilizing numerous online platforms and channels is known as a Digital marketing strategy. It involves utilizing digital technologies and tactics to successfully reach and engage target audiences. Identifying goals and objectives, conducting market research, defining target demographics, selecting the right digital channels, creating compelling content, implementing campaigns, analyzing data and metrics, and improving strategies based on new information are all vital elements of a successful digital marketing strategy. Businesses may improve their online presence, engage in leads, boost conversions, and finally achieve their marketing goals with the help of an efficient digital marketing strategy.
What digital marketing technique is the most successful?
The most effective digital marketing strategy combines several key aspects. First of all, you need to understand your target audience and their preferences. Next Search engine Optimisation plays an important role to drive organic traffic to your website. Additionally, successful audience engagement and brand exposure are made possible through the creation of shareable, interesting content when combined with a strong social media presence. Using paid advertising can help you to get further reach and engagement. Lastly, regular data optimization and analysis guarantee ongoing plan improvement.
How do you create a digital marketing strategy example?
Creating a digital marketing strategy involves separate stages. Firstly, define your goal and target audience and create a measurable objective that aligns with your goal. Then create a proper content plan accordingly that includes different channels like social media email marketing and SEO. Also, always remember to regularly analyze to optimize your strategy for the campaign.