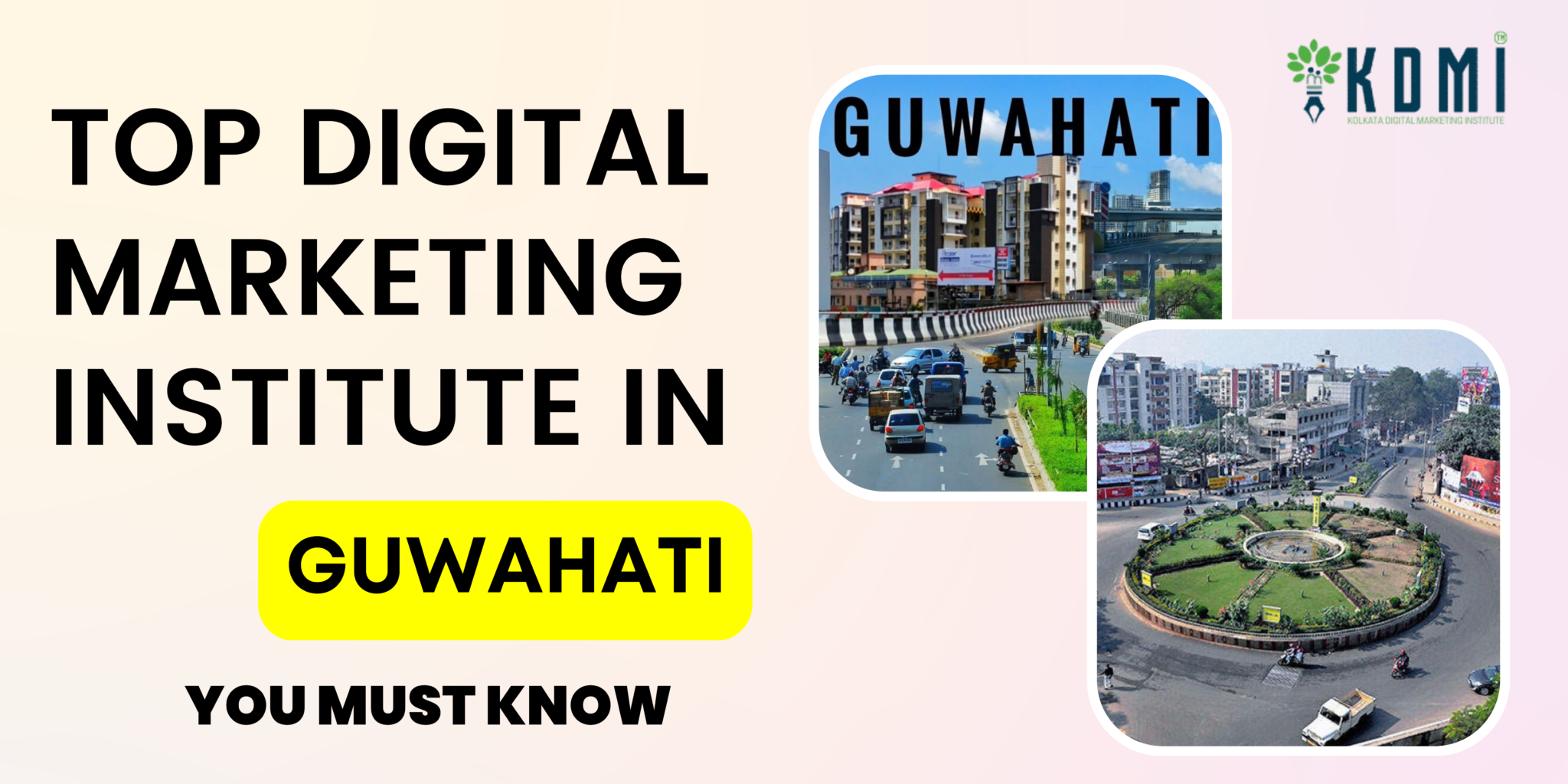 Are you from Guwahati and interested in learning digital marketing but unsure about how to get started and which institute to enroll in?
Then wait,
Whether you're a student looking to kickstart your career or a professional who wants to upskill, learning digital marketing can benefit you in many ways.
First, comprehend the factors you will take into account before selecting any digital marketing
Check their reviews on Google.
Affordable fees
Faculties experiences
Live interactive classes
Tool-based training session
Check the course module.
Now, move forward and have a look at my research on the Best Digital Institute in Guwahati.
1.Kolkata Digital Marketing Institute (KDMI)
The best digital marketing institute in Kolkata provides both online and offline class facilities.KDMI is also mentioned in India's very renowned newspaper, "Times of India."
June 2022.KDMI is also featured in the Times Express with the headline, "Highest-ranked Digital Marketing Institute in Kolkata on Google."
The faculty here is kind and encouraging, and they help you in every way so you can understand everything very well. To increase their hands-on learning, they offered them customized tasks.
KDMI stays in touch with its students to support their development as people. Also, they provide free hosting and video access, but more importantly, they have affordable pricing. Once the full course has been completed, they provide internships and career placements.
Course Details:
Website Development.
Social media marketing
Facebook Ads Manager
Search Engine Optimization
Google Ads
Search Console
Social Media Tools
Blogging
YouTube Marketing
Google Analytics
Course Highlights
28Core Modules
90% Practical Training
Star Faculty
Live project exposure
100% Placement Assistance
Personal Guidance
Internship Opportunity
Previous Students Rating: 4.95/5
Tools-Based Training
Affordable Fees
WhatsApp chat support
Live classes facility:
KDMI provides you with a live interactive class facility, which is very beneficial for you. You can sit at home and take advantage of these classes from anywhere. They conduct live interactive classes so well that you will feel like you are taking classes directly from the classroom and will not feel left out. KDMI consider as best digital marketing institute in Guwahati as it provides you Live interactive classes so yo can opt this classes from there also.
Course Duration:
It is a full 6-month course, of which the first 3 months will be classes and the remaining 3 months will be internships, where you will get the opportunity to work at Digital Rosogulla.
Course Certification

You will receive a total of 12 certificates after completing the digital marketing course. If you opt for an internship, you will also receive certification from Digital Rosogulla.
Student Testimonials

Google Ratings: 5 Stars
Contact Details:
E-mail: contact@kdmi.in
Phone number: 900-774-6211.
Website: www.kolkatadigitalmarketing.com
2.Digiperform
At Digiperform, we offer comprehensive courses that equip you with the skills and knowledge needed to excel in the field of digital marketing. Digiperform is situated in Guwahati.
They have a group of motivated individuals that are in charge of interacting with the organization and helping thousands of students find the best placements.
Course Details:
Business Introduction
Online business visibility
Lead Generation
Personal branding and online training
Course Highlights
Internship
Mock Interviews
Live Interactive Session
Contact Details:
Phone number: 097069 11700
3. Megon Academy
According to Megon Academy, "Megon's unique, cutting-edge, and modern approach to digital marketing will immerse you in a healthy environment that encourages participation."
They help you upgrade your knowledge, your strategies, your job readiness, etc.
Course Details:
SEO
Social media marketing
Youtube Marketing
Facebook Marketing
Google ADS
Growth Marketing
Course Highlights
Practical Classes
Classroom Learning
Corporate Work Experience
Interview preparation
Contact Details:
Phone number: 88229111969
Email: contact@megonacademy.com
4.Pixela Infotech
They are a leader in providing beneficiaries with a range of public and private training programs. According to them, their main objective is helping the student community of society, regardless of caste, creed, or religion, which is the primary goal of Pixela InfoTech.
Course Details:
Web Development
Web Designing
Video Editing
Photographing
Course Highlights
Good Mentors
Great Support
Contact Details:
Phone number: 8638279260
Email: office@yourbusiness.com
5.Tech Booster
The organization, Tech Booster Education Private Limited, is registered with the Central Government and has ISO 9001:2015 certification. On the courses listed, they offer digital marketing services on the market and also provide internships.It consider as one of best digital marketing institute in Guwahati.
Their goal is to develop and prepare business-focused IT experts who can offer innovative solutions in demanding environments and help companies succeed.
Course Details:
Web Development
Graphics Designing
Social media marketing
Video Editing
SEO
Course Highlights
Faculties
24×7 support
Help with Placement
Contact Details:
Phone number: 8404049881
Email: tboffical@techbooster.com
Frequently Asked Questions (FAQs)
What opportunities will you get after doing the Digital Marketing Course?
According to LinkedIn, digital marketing specialist is one of the best jobs in the top ten. You can be an SEO executive, a social media marketer, a content writer, and work with ads (on Google, Facebook, and Instagram).
Who can learn digital marketing?
Digital marketing can be learned by any individual from any background. To learn digital marketing, you don't need a two- or three-year degree.
What is the basic salary for digital marketers?
In India, digital marketers with less than one year of experience can earn between Rs 1 lakh and Rs 4 lakh annually.
Is digital marketing easy?
Digital marketing is neither very easy nor very hard. Like any new skill, digital marketing can be challenging, but it is not necessarily "hard to learn ". You have to learn the course very thoroughly to understand everything well; then it will be easy for you.
Conclusion
I hope this article is useful and that you understand all the key points very well.
Studying digital marketing is not crucial; what matters is the institution you choose to take this course.
To learn the best digital marketing course, you can select KDMI, one of the best digital marketing institutes, which offers you online and offline classes and also provides live interactive classes that are very helpful for you.