The main focus of any business is on its Sales Growth, and its future comings, which are together facilitated by digitalization. Now how does digitalization manage do that?
The answer to this would be that it creates your business's worldwide online presence which not only boosts your growth by increasing customer range, but also by gaining customer's trust which further facilitates brand building recognition and sales. As we all know that our future will be mostly web-based which means all-digital, hence it is said that for a company to sustain it has to go digital because it is the only way out.
HERE ARE THE 6 MAJOR REASONS WHY YOU SHOULD DIGITALIZE YOUR BUSINESS NOW
1. Huge Online Presence Opportunity
Huge Online presence opportunity on the Internet is available via tools like online stores, social networks, web journals, corporate pages, Google My Business Listing and so forth, which increases the consumer's knowledge and trust about the organization which facilitates bulk sales. Once you have an online base you as well as your customers can operate anytime anywhere.
2. Super High Customer Reach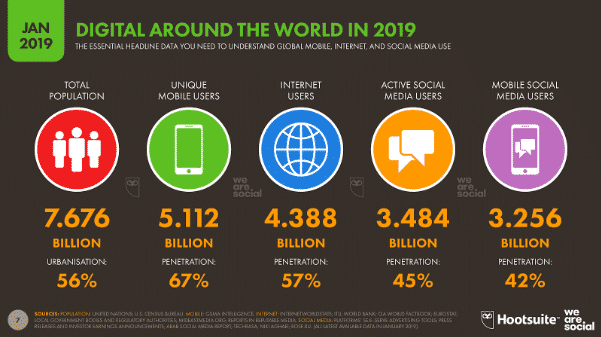 Since the internet gives you a huge platform to connect worldwide which is difficult to gain if you operate offline. By converting your business digital, you can reach out to a larger group of audience. Once you gain customer attraction tools like online marketing, web-based sales, etc may help you to retain those customers. check on Statista how many Indians are online in 2020
3. Customer Feedbacks to improve your products & services
A company seeks the need for constant improvement, so the product or service offered is according to the customer's wants. Their opinions can be taken into consideration as they can easily suggest or give a review of anything that they like or dislike via opinion poles, company websites, etc. In addition to that customers have easy access to the company's products.
4. Overall Productivity And Efficiency Increases:
More information helps you make better decisions and technology helps your task easier. It is obvious that your costs minimize, and your productivity as well as the quality of your productivity increases.
5. Employees & Employer Benefits:
Flexible working hours can be provided. Working from home can also be encouraged. Because this company can benefit from low job turnovers, and talent, as well as the skills of employees, can be retained in the organization as well as Employer operation cost reduced by implementing all these
6. Robust Data Analytics:
As we all know that data retrieved and analyzed using technology is more accurate than manual collection and interpretation. Looking at the pace of growth and reliability many companies have already opted for online tools. Also, by looking at its immense future potential some organizations practice fully web-based data analysis.
More importantly, When there is a world crisis like the Coronavirus outbreak which we are facing now, then during such an emergency period, you can still carry your services if you have an online mode of business.
Now in order to implement the Digitization, you need to learn it first and KDMI- Kolkata Digital Marketing Institute is a pioneer in Digital Marketing Training & services so you can take our help and transform your business digitally
About The Author-
Sidhi Binaykia- KDMI Student
I am Siddhi Binaykia, a Bcom 1st year student from JDBI ( J. D. Birla Institute). Looking at the opportunities and having an interest in the field of marketing, I have also been pursuing the digital marketing course lately.