In today's digital marketing era, having a remarkable online presence is an added advantage for every business. Having a remarkable website will certainly help stand out from the competitors. On-page SEO optimization is the most efficient strategy for making your website stand out from the competition and achieving a top ranking on Google.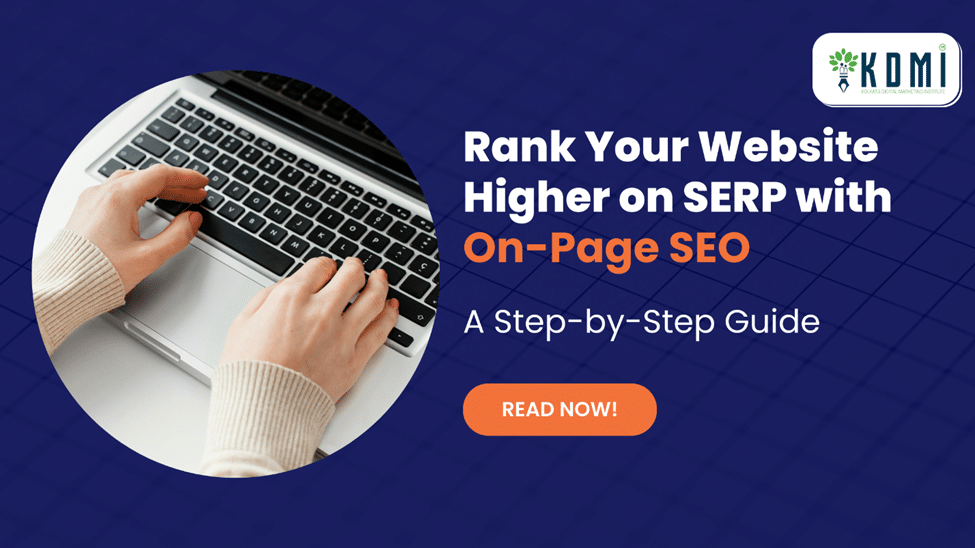 What is On-Page SEO?
On-page SEO is the optimization of web pages according to search engines and users. It includes the optimization of various factors on a webpage, like; content, title, header tag, meta description, header tags, images, and internal linking.
Why On-Page SEO is important for website visibility
The main objective of On-Page optimisation is to provide search engine information about what the page is about and the relevance of the page to the user's search query. When a search engine finds out that a webpage is relevant to a user's query, they will most likely rank the page higher on SERP.
Here are some benefits of optimizing your website according to On-page:
Improvement in search engine ranking – On-page optimization helps search engines understand the content of a webpage and determine how relevant it is to the user's search intent. If you have optimized your content, including meta title and description, it is more likely to be able to get a higher rank on SERP.
Increase traffic organically – A higher rank on SERP can help you gain more organic traffic as a website that ranks higher on search engine results more people are likely to click on it.
Better experience for users – If you have implemented the On-Page optimisation for a website, it will help to improve the experience for a user. This can help you to gain longer viewer duration, lower bounce rate, and higher CTR which can help you to rank higher on search engines.
Increased conversions – A better user experience can help to improve your conversion rate. If a website has quality and informative content relevant to their needs, they are more likely to take action, such as making a purchase or signing up for your email list.
On-Page SEO factors to consider
Several factors in On-Page optimisation can help you to improve your website's search engine ranking. Some of the key factors in On-page optimisation are:
Keyword research
Meta title and description
SEO-optimized Content
Heading and subheadings
Image and Alt tags
Internal linking
URL Structure
Mobile Optimization
1. Conducting keyword research for On-Page SEO
Conducting proper keyword research is one of the most essential steps to increasing your website visibility and improving your results on search engines. To conduct effective keyword research, you should begin to understand the business and its target audience. To start your keyword research for On-page SEO, you should first find out the initial seed keywords and expand that list with the help of a keyword research tool by evaluating the relevance, volume and difficulty of a keyword. After completing the keyword research, choose the most appropriate keywords for your website and create the website content by naturally including the keywords in the text, heading, meta title and description. This method will help search engines find out the relevance of the website's content with the keyword, and improve its chances to rank higher on the search engine.
2. Optimizing meta title and description of a webpage
A well-written meta title and description can help your website rank higher on search engine results and improve click-through rate (CTR). The meta title of your website should be concise, relevant and contain the main keyword. Also, as search engines only display the first 50-60 characters of the title on search engines, you should make sure that the most important information is included at the beginning. The meta description also should be concise within 150-160 characters and give a summary of the content to encourage users to click. Both elements should be unique for each page to maximize the effectiveness of search engine ranking and user engagement.
3. Crafting compelling and SEO-friendly content
Crafting compelling and SEO-friendly content is an essential skill for anyone who wants to improve their website visibility and rank on search engines. To create compelling content at first you need to get a better idea about your target audience, their need and interest so that you can craft your website's content according to that. This will help you to identify the phrases or words that your target audience is likely to search online and by using this you can find out the best keywords that you should include in your content. Now that you have decided on your target keyword, include that keyphrase in the website's content, heading, meta title and description, but remember not to stuff them unnaturally. Also, the content should be well-written, informative, unique and written in an engaging storytelling format to increase the credibility and readability of content, try to use subheadings, images, infographics and internal or external links.
4. Utilizing headers and subheadings for improved SEO
Using headers and subheadings properly in the content will not only help you to improve your website's SEO but also the readability of your website content. This will help search engines understand the structure of the content as well as make it easier for your readers to scan and find the information that they are looking for.
Also, you should always remember that the structure of the content should be in hierarchical order. The most important header should be the H1 tag, followed by H2, H3, H4 and so on.
5. Optimizing images and alt tags
Adding an optimized image to your content can increase the chance to rank on Google Images – which is 22.6% of all searches. Ranking an image can be a great way to drive traffic to your website.
To optimize an image for On-Page SEO you need to add Image alt-text. It helps Google and search engines to know what the image is about and will be displayed if the image can't be loaded. To properly optimize an image the Image alt-text should be brief and within 120 characters.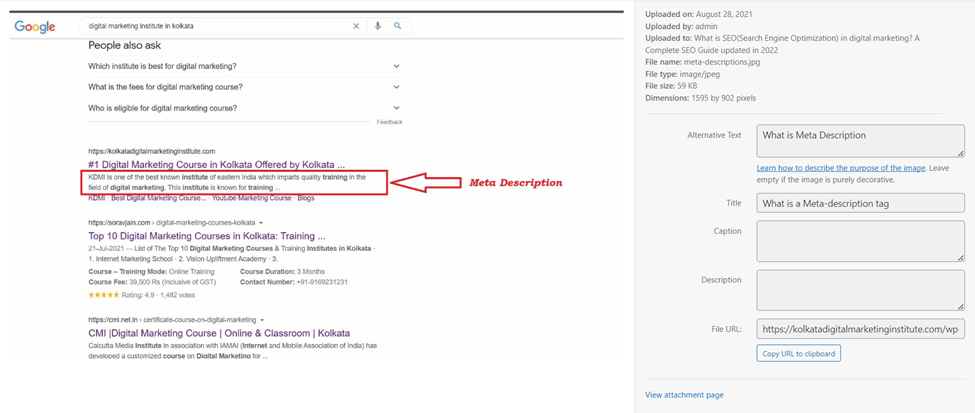 6. Internal linking for better website visibility
Internal linking is a process that helps direct users from one page to another on your website. It not only helps users navigate your website but also helps search engines understand the structure and hierarchy of your website.
Internal linking helps to improve website navigation and explore more pages on your website which increases the session time of a website, all of which contribute positively to search engine ranking. Additionally, it distributes the link equity across a website to boost website authority and visibility of several pages.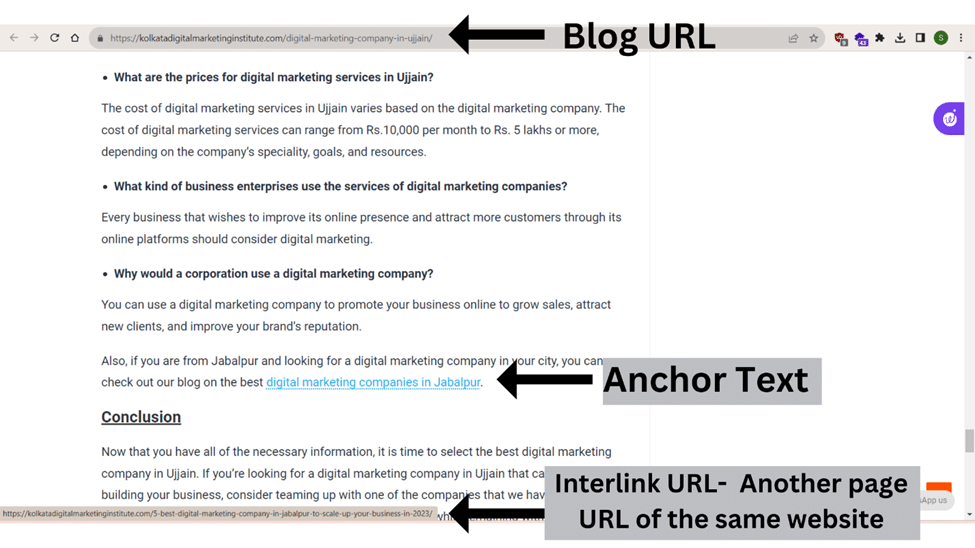 7. Importance of URL structure for On-Page SEO
A well-structured URL is important for On-Page optimization as it has a direct impact on both search engine understanding as well as user experience. A clear and concise URL structure can improve your website's CTR by helping users understand what type of content is available on the page.
An SEO-friendly URL should be short and simple and have a descriptive keyword that reflects the page content. Also, the URL should be written in lowercase letters and the words need to be separated using hyphens for better readability. Here are examples of good and bad URL structures:
8. Optimizing for mobile devices and improved visibility
Developing a mobile responsive website is essential for every brand that wants to succeed in this era of online marketing. As the number of users on mobile and tablet is growing rapidly day by day, it is becoming necessary for every business to have a properly mobile-optimized website that displays well and functions quickly on smaller screens. Mobile optimization includes responsive design, fast loading time, and content that is easily accessible and readable on mobile devices.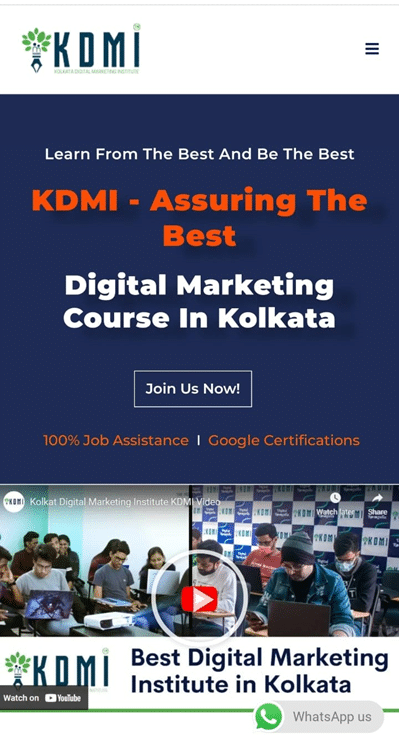 Monitoring and analyzing On-Page SEO performance
You should regularly monitor and examine the On-SEO performance of your website to ensure the fact that it is performing well in search engine results. Here are some factors that you can use to monitor your website's performance:
Use Google Search Console: Google Search Console is a free tool provided by Google that you can use to track keyword ranking, organic traffic, and details of other important factors of your website.
Use Third-party tools: There are several third-party tools like SEMrush, Ahrefs, Moz etc. which can provide more detailed insight into your on-page SEO performance, such as your website's crawl health, backlink profile, and content optimization.
Track Key Metrics: Several key metrics need to be analyzed to monitor On-page SEO performance, such as; organic traffic, keyword ranking, page speed, bounce rate, etc.
Identify the area of improvement: After analyzing the website's performance and the areas that can be improved, you can start making changes to your website. For example, if the bounce rate of your website is very high, you can try to improve the quality of the content or layout of the page.
Conclusion
In conclusion, optimising your website's On-page is an essential part of elevating your website's visibility and attracting the right audience. By following the abovementioned steps in this blog, you can optimize your content effectively to align with search engine algorithms and user preferences. Remember, a well-optimized website can not only help you to get a better ranking on Google but also enhance user experience to drive traffic organically and encourage sustainable growth for your online presence. Stay committed to refining your on-page SEO strategies and adapting to the evolving digital landscape to ensure that your website remains relevant and competitive in this vast online world.
Also, if you want to know more about what is SEO and why it is important you can check out the blog on "What is SEO(Search Engine Optimization) in Digital Marketing?"