Did You Know? Research points out that Email Marketing has the highest ROI (Return on Investment) as compared to other digital channels.
Earlier marketers were sceptical about whether email will be able to survive the modern-day marketing requirements. But in the last couple of years, the world has witnessed the emergence of new forms of digital marketing such as social media marketing, mobile marketing, etc.
The year 2020 was a tumultuous year for businesses around the world. It is then, that email marketing came back to the forefront of digital marketing and was witnessed as one of the most important tools for engagement. Several Industries reformed their marketing strategy to connect with their audience digitally. Marketers were surprised to see a boost in the ROI with the help of email marketing. With more and more consumers shopping online, there is even a greater need for email marketing. Personalization and automation can be combined to create a strategy that truly speaks to your customers and in turn boost your ROI.
Email Marketing works well when a proper strategy is laid out. Knowing the customer demand and preferences in advance helps in formulating a strategy and gives a competitive advantage. So, below are a few email marketing trends that you cannot miss!
EMAIL MARKETING TRENDS IN 2022
#1 PERSONALIZATION: This is one of the most important features that no marketer would like to miss. Studies show that customers are very conscious of the information being gathered from them via digital platforms. As a marketer, it becomes our responsibility to provide our customers with personalized content and serve them better based on their requirements.
Our emails are bombarded with irrelevant and spam emails. The only way a marketer can stand out is by sending out personalized emails to their target audience. In this digital era, marketers must be having customer information stored in their data. For example, their name, their place, the frequency of their purchase, their preferences, and habits, their last purchase, etc. By using email personalization techniques, one can use their customer data to suit a specific category of audience.
An emerging trend is to use robotic process automation and AI to send personalized emails that appeal to a specific segment of the audience. This form of personalization is known as Hyper-personalized emails. It is all about sending the right email to the right person at right time. Examples include sending out emails with a recommendation based on their past purchases, offers tailored to the behaviour of customers, etc. The more you personalize your emails, the more likely your target audience is to be interested in your content. Personalized content when received inculcates a sense of care and understanding in your customers.
#2 USER-GENERATED CONTENT: Your customers are smarter than you know! They know when a brand is trying to claim too big of themselves. Therefore to provide proof of what you claim, implement user-generated content into your mails. Studies show that a customer is more likely to trust your product/service if they see a positive review from a diverse group of customers. User-generated content can include social media posts, reviews of your brand, surveys, blog posts, etc.
Gathering user-generated content is free and easy. You can encourage your customers to post a review of your product/service, provide a picture of themselves using your product/services or you can also include a CTA on a poll or a survey to increase trust and collect the data quickly.
By including this content in your emails, it is possible to convert your readers into your buyers, thereby increasing the ROI.
#3 MOBILE OPTIMIZATION: We all love our smartphones and cannot do without them. Nowadays we use smartphones to do every basic thing from grocery shopping to attending meetings.
According to a recent study, 83.72% of people own a smartphone worldwide. Keeping the numbers in mind, it is not surprising that smartphones are becoming more relevant to email marketing. More than half of the emails opened are via mobile phones. Therefore it has become a necessity to create mobile-optimized newsletters.
As a marketer, you should make sure that when a user opens your email on their smartphone, it should load correctly. It is very unlikely that the user would open that mail later on some other device. Your optimization techniques must ensure that your emails are mobile-friendly, with visible CTAs and good loading speed.
#4 IMPLEMENTING AI IN YOUR STRATEGY:
We live in an era, where Artificial Intelligence (AI) and Machine Learning (ML) have become an integral part of the digital world. AI in marketing has become one of the hottest trends in email marketing because it can create successful marketing campaigns without allocating much of your time and resources.
AI in email marketing can be used to perform various tasks such as:
Predicting and optimizing the best time to send emails.
Use analytics to predict the outcomes of your campaign.
Optimizing surveys.
Processing large amounts of data.
Using SEO optimizer to add relevant keywords.
Cleaning the email lists.
Writing subject lines and email copies.
Using AI can help a marketer to make their email campaign run more smoothly and effectively.
#5 MAKING IT INTERACTIVE: The only way to grab the attention of your audience is by standing out from the crowd. Sending Interactive emails is an easy way to differentiate your emails from your competitors. Incorporating interactive marketing greatly increases the engagement rate and is quite easy. With the increase in competition, more and more marketers are putting in efforts to make their emails look interactive and engaging.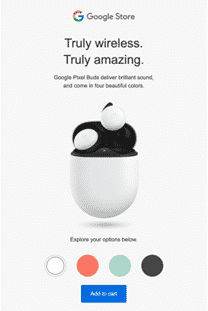 There are several steps that you can use to make your emails stand out from others:
Using GIFS and hover-over-imagery effects
Surveys, polls, and feedback forms
Use interactive carousels to showcase your products/services
Choice of dark mode or light mode
Adding interactive sounds
You will be able to gather more information when you make your audience feel that you care about them and their experience.
#6 DATA PRIVACY: It is undeniable that data privacy has been a key factor for businesses for a long time now. It is no surprise that the Internet is full of threats. Modern-day customers are being more and more aware of their data privacy and naturally, most of them are reluctant to share their personal information.
Keeping this in mind, the best way to reinforce the confidence of the consumers is by being transparent with them. For example, sending out emails highlighting that their information is safe and complies with the GDPR and PCI rules and regulations. To win your customers' trust, you need to make privacy the center of all your email campaigns. Keep your customers updated about the changes in data privacy and make them trust your brand. This will also help in showcasing your company's ethics and creating a good brand image in the minds of the consumers.
WRAPPING UP
2021 was a year full of changes. The Worldwide pandemic has stirred things up and made us accept and embrace the changes it brought. It has made marketers baffled at the growth achieved with the help of email marketing. The year 2022 is the year of email marketing and as a marketer, it is time for you to follow and implement these email marketing trends and make your brand stand out from the crowd.
Visit us for more content: https://kolkatadigitalmarketinginstitute.com/